The collection and penalty fees report allows monitoring of customer's accumulated collection and penal expenses. The report makes it possible to view customer's not invoiced and invoiced collection and penal expenses.
The report can be found from Reports > The collection and penalty fees report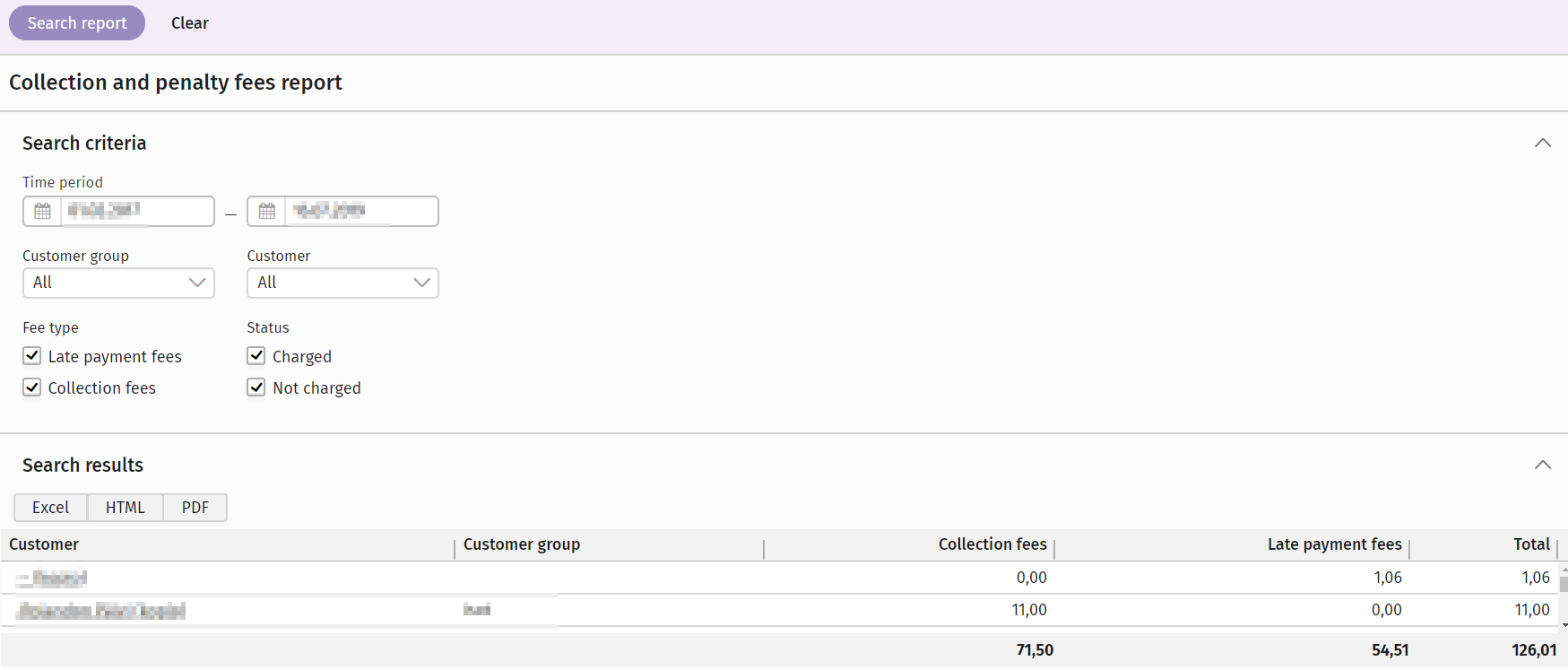 Setting up the report
The collection and penalty fees report is activated at the same time as the collection and penal fee calculation.
First the collection and penalty fee calculation is enabled in Debt collection settings Is the automatic handling of collection and penal costs enabled?
Read more information about setting up the collection and penalty fee accounting here. 
After reading the instructions create products for collection and penalty fees that the report will follow.

Specify these created products also to Usage settings so that the report knows which products it should follow.

After collection and penalty fees occur to invoices, the report will start working.
Using the collection and penalty fee report
Start the use of the report by filling in the search criteria.
Time period should be filled in to determine from which time frame the report searches invoices.
Customer group – a specific customer group can be chosen or all customer groups.

Customer groups can be selected for every customer by going to Business partner register and opening the customer information. New groups can be created in Business partner groups. 

Customer – a specific customer can be chosen or the field can be left empty.
Fee type – late payment fees or collection fees or both can be selected.
Status – both charged and not charged collection fees can be chosen to be shown in the report.
After selecting the search criteria, click Search report.
Procountor will search all the customers that can be found with selected search criteria and lists the overall collection and penalty fees and the total sum of the fees.
By clicking the name of the customer, another view will open underneath the search results. This view will show the specific invoices that are/were overdue. The view will show:

Invoice number, which has been overdue
The total number of payment reminders
Interest days (which means how many days the invoice has to be over due after the interest starts to occur)
Collection fees
Late payment fees
Total sum of the fees
Invoice number in which the fees are invoiced

By clicking the invoice number Procountor will move to the invoice view of the selected invoice.
The list of the report can be taken out as Excel, PDF and HTML format.