The Partner checking report helps to find exceptions, e.g. erroneous default entries or VAT percentages, in reconciliation.
The report can be found by choosing Reports > Reconciliation tools > Partner checking report.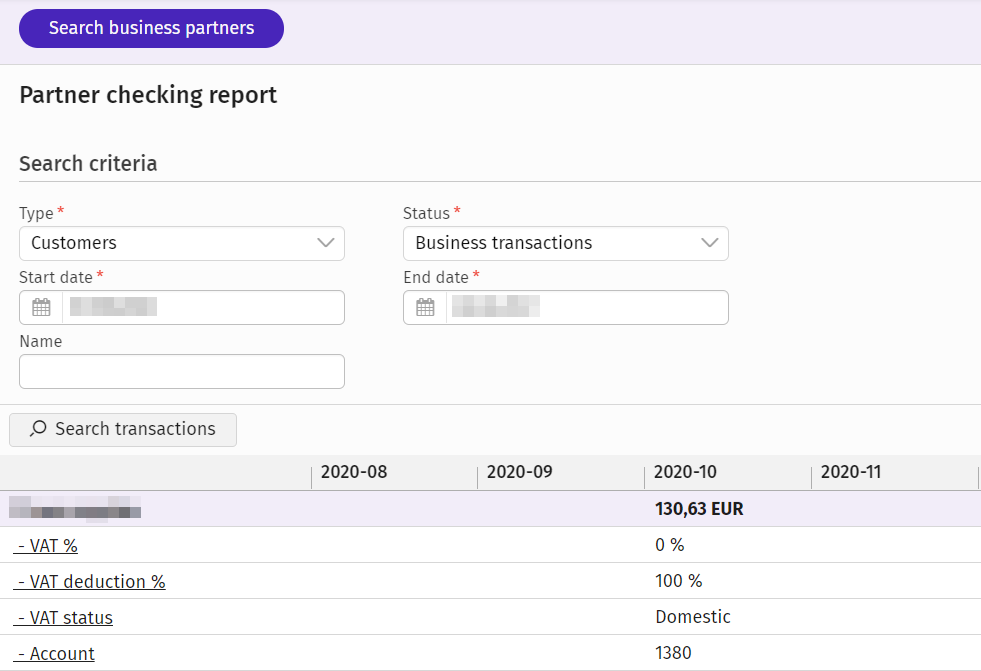 General information
The report produces a list of the selected business partner type's invoices for the selected time period and shows the monthly invoice sums, VAT percentages and statuses, VAT deduction % and accounting accounts.
Business partner specific invoice itemization window can be opened by clicking business partners name, VAT status, VAT %, VAT deduction % or accounting account.
It is possible to access receipts Accounting and Invoice views by clicking Accounting or Invoice buttons on the business partner specific invoice itemization window.
Invoices that have not been allocated to the business partner register are shown with business partner's name (Not selected).
If a business partner is noticed to have a wrong accounting account, VAT status, VAT deduction % or VAT %, entries can be retrieved to the business partner with Search transactions button. On the opening window, user can decide whether to go to receipt's Accounting view or Invoice view.
If a sudden change is noticed with a similarity of the months with the business partner, it is recommended to review if some receipt is missing.
Clicking the right mouse button on the table opens a menu with the options display the Search transactions, Open Excel, Open HTML and Open PDF functions.
Search criteria
Type
Report is run separately for different business partner types; Customers, Suppliers and Persons.
Status
The Status field opens a drop-down menu with options Business transactions and All.
When selecting Business transactions, the report only shows the receipts that are taken into account in accounting.
When selecting All, the report also shows unfinished business transactions with the business partner.
Start and End date
The time period, in which the report will be run is defined in these fields.
Name
Information can be searched based on business partner's name.
The buttons of the view
Search business partners
The button runs the business partner report based on the set search criteria.
Search transactions
The button allows drilling down to the business partner info to observe the transactions. Through this it is also possible to go further to accounting or to the invoice.
Same info can also be accessed by clicking the name of the business partner.