Template used on sales invoices and sales invoice numbering can be changed in Management > Company info > Invoice settings.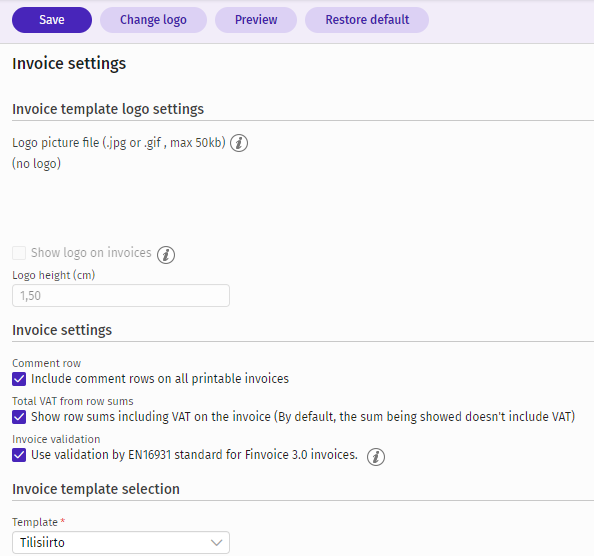 Adding logo to invoice template
The company's logo can be added to be shown on invoice template using Change logo button.
In the window that opens from Change logo button, click on Choose file, select the logo you want to add and then click on Continue.
Select Show logo on invoices to have the logo shown on invoices.
Save changes by clicking on Save.
Preview the invoice template using Preview button.
Image properties
The company logo image file must be in JPEG, JPF or GIF format and the suffix needs to be in small letters, such as logo.gif (gif in small letters). The image resolution should be as high as possible to ensure the logo is of good quality. The size of the image must not exceed 50 kilobytes.
The space reserved for the logo on invoice template is 1.5 cm x 9.0 cm (h x w). When invoices are sent from Procountor by post, the size of the envelope used is C5 (22.9 cm x 16.2 cm) and has a window of 9 x 6 cm in size, situated 1.8 cm from the left margin and 1.5. cm from the upper margin.
More information on invoice layout and content can be found here.
Invoice settings
Comment row selection determines whether row comments are shown on sales invoices and orders sent from Procountor or if the comments are hidden.
Total VAT from row sums selection determines, whether invoice and order row sums are shown without or with VAT. By default, sums are shown without VAT.
Invoice validation -setting enables validating the e-invoices by EN16931-standard when sending the invoices in Finvoice 3.0 format. If the validation is selected, company should be in the VAT register and Company ID must have FI selected as VAT identifier. This can be defined in Company's basic info view (Management > Company info > Basic info).
Invoice template selection
Template selection determines the invoice template used as default. Options are Procountor-default template (option Procountor-oletus) and bank transfer (option Tilisiirto). If the company needs to have customizations made in the default template, some customizations can be made to the template by Accountor Finago for additional charge. In these cases, please contact Procountor customer service to find out if the type of customizations your company needs are possible to make. If the company has customized templates, they are shown in the Template menu.
Receipt numbers
In Receipt numbers section, the numbering of sales invoices can be changed if necessary. In Next sales invoice number field, enter the number you want to be generated for the next invoice that's created.
Invoice number entered into the field always needs to be greater than the number of any existing invoice to prevent invoice numbers from overlapping. For example, if the previous, already existing invoice number is 2, the numbering can be set to continue from number 3 or a greater number.
Save changes by clicking on Save.
History log button enables tracking the changes that have been made to invoice numbering.
Please note that if the company is using External financing, changing invoice numbering is not possible. In these cases, an exclamation point will be shown on the view and by clicking on it, an error notification will appear.

Things to note concerning sales invoice numbering
Letters can't be included in sales invoice numbering. Receipt numbering is running and will not be reset to zero at the turn of the year. By default, sales invoice numbering starts from number 1.
The same numbering is used on sales invoices and sales orders. Invoice numbering is not linked to invoice date, but instead to invoice creation order.
When a sales order is changed into an invoice using function Change to invoice, the invoice generated will have the same number that was on the order and the order will no longer exist. If an order is copied into an invoice using function Copy as invoice, the invoice generated will have the next available number.
Setting your own units
In Invoice settings, you can set the units that will be used on invoices by adding units to Units list. The units added to Units list are shown in the Unit menus found for example on sales invoices, orders and offers.

Available units list on the left side includes all units that are available. Units can be filtered by choosing categories, for example Area, Content or Current. From the list of available units, you can add a unit to Units list by clicking on Add+ button found next to the unit name.
Once a unit has been added to Units list, it can be selected as a unit for invoices, orders and offers or in product register.
A unit can be removed from Units list, if necessary. A unit is removed by clicking on X in front of the unit name. Unit "pcs" is mandatory to have in use and cannot be removed.
Removing a unit from Units list means it can no longer be selected for sales invoices, order, offers or in product register. However, the unit will remain selected on existing products and invoice rows, for which it has been selected earlier. A removed unit will remain on product rows also when copying a product row from an existing receipt to a new one.