The receipt type Sales order can be utilized, when creating offers and delivery notes in Procountor. Sales order view can be accessed by choosing New > Sales invoice.
Further information about creating a sales order and the fields and the buttons of the Sales order view.
Offer
A sales order can be converted into an offer by choosing the option Offer "Is this an offer?" in Additional information section on Sales order view.
When the Offer "Is this an offer?" option is chosen, the sales order's title will change to Offer.
When the customer accepts the offer, the sales order can be changed into an order confirmation by unticking the item Offer "Is this an offer?" and making any required changes/corrections to the order. Approve the order confirmation, send it on and convert it into an invoice.
If sending an order confirmation is not required, the offer can be changed directly into an invoice with Change to invoice

Delivery note
A delivery note can be created from Sales order view by clicking on the Preview button at the top of the page and choosing the Delivery note option.
Clicking on the button will open the delivery note in a new window in either HTML or PDF format. The delivery note can then be printed out, saved into a file, or copied into Word or another word processor for editing.
The delivery note will indicate the names and quantities of products, but not monetary or payment information.
The information in the delivery note is not affected by the issue of whether or not the Offer "Is this an offer?" option is chosen.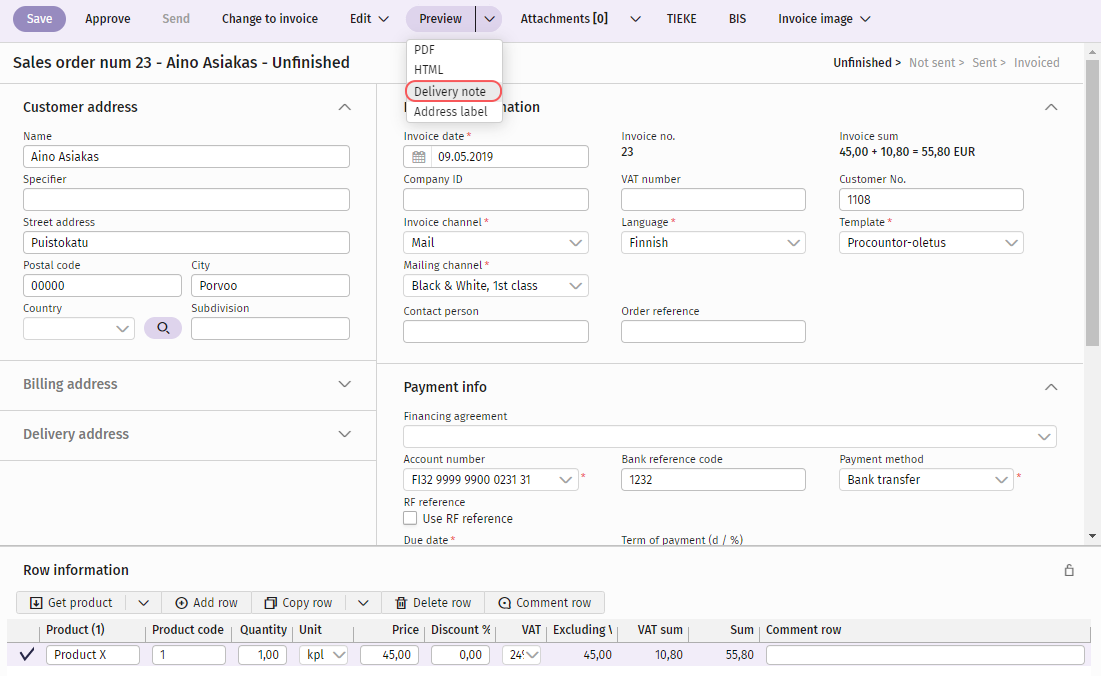 Address label
The Address label option is available on Sales order and Sales invoice views, through the Preview The address label is an 89 x 36 mm label printed with a special printer (such as the Dymo Label Writer 400). The address label will only include the address information specified on the receipt.
The Address label opens as a PDF document for printing.
The printable PDF (address label) includes the address information from the sales order or sales invoice. The address information is primarily taken from the Delivery address section, but if the information in the field is incomplete, the address in the Customer address section will be used instead.