Multiple orders can be combined into an invoice by using Combine orders into an invoice function. The function can be found from Receipt search view (Search > Receipt search) by clicking the More actions button (above the search results) and then by choosing Combine orders into an invoice function from the drop-down menu.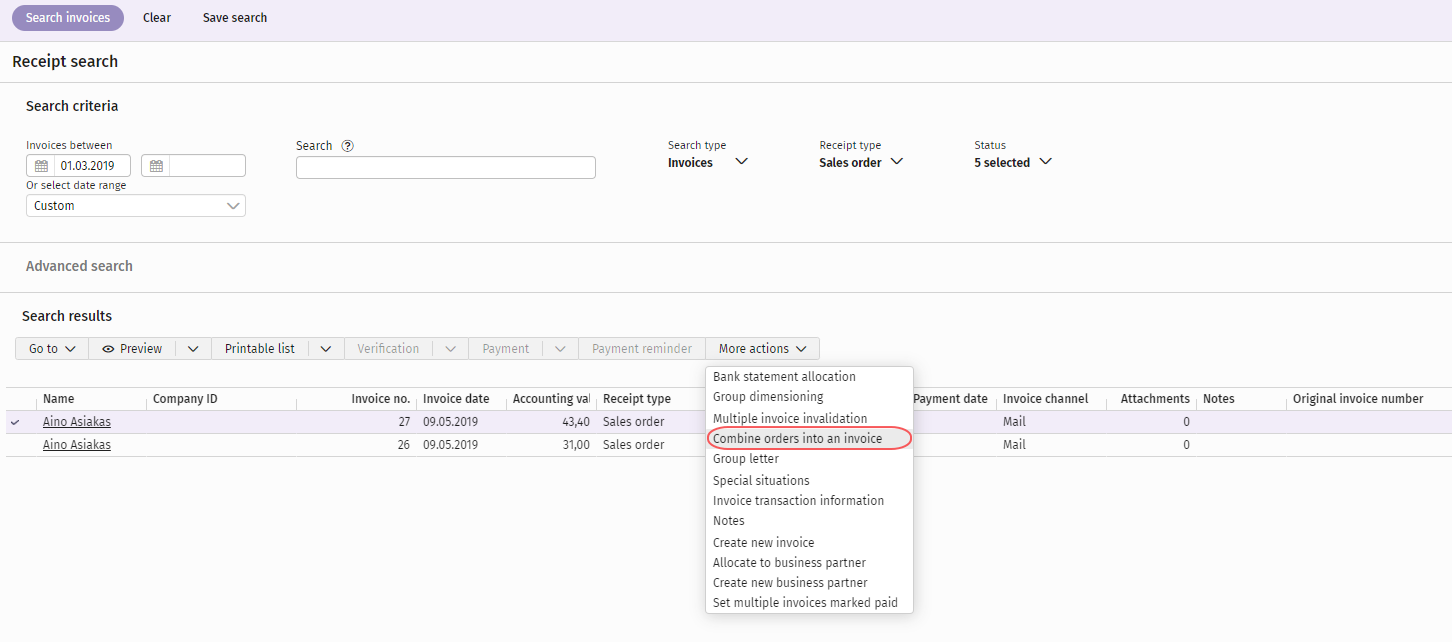 General information
With the Combine orders into an invoice function, it is easy to combine multiple orders into a single invoice, for example if you are invoicing sales orders created for a specific customer once each month.
Combine orders into an invoice view lists all orders from the search results on Receipt search One of the orders should be selected to be the one, which title information will be used on the invoice. Also, orders with wanted row information should be selected.
Combining orders into an invoice will delete the accounting pages of the orders and sets them to Invoiced The new, created, invoice will have a new accounting page.
The buttons of the view
Create a new invoice
Button starts the process of combining selected orders into an invoice.
Select all
The button selects all orders' row information to be brought on the invoice to be created.
Creating an invoice
1. Select the order, which title information is wanted to be on the invoice and select the orders with wanted row information.
2. After selecting the orders, the invoice can be created by clicking Create a new invoice button.
3. Procountor will ask for confirmation, so click on the Continue button.
4. After clicking Continue, the status of the original orders will become Invoiced. The orders' accounting pages will be deleted, and the new invoice is created based on the selected invoices.
5. Next, the new, created, invoice with Unfinished status will open and it can be edited. The order reference on the PDF formed invoice will indicate the orders the invoice is based on.