Set multiple invoices marked paid function can be used to set several sales invoices to Marked paid status at once.
The function is found in Receipt search (Search > Receipt search), under More actions button: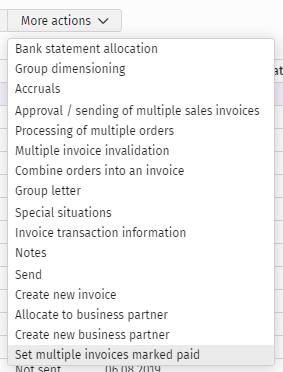 Setting multiple invoices to the Marked paid status is done by the following steps:
Go to Receipt search.
Choose Open invoices from Search type menu.
Choose Sales invoice from Receipt type menu. If other receipt types than sales invoices are included in the search results, the following error message appears when selecting the Set multiple invoices marked paid function.

Click the More actions button above the search results and choose Set multiple invoices marked paid. The following view opens:

Manual for the function can be found by clicking Procountor's Info -button.
The invoices in Set multiple invoices marked paid view are in statuses Not sent, Sent, Approved and Partly paid.
Choose the desired invoices by marking the selection boxes in the left side of the view. All invoices can be chosen at once by choosing the uppermost box in the left side of the column header row.
Click Set as marked paid button in the upper section of the view. The button will be activated only after when at least one invoice has been chosen. The button's number in brackets expresses the amount of selected invoices. The following window opens when the button is clicked: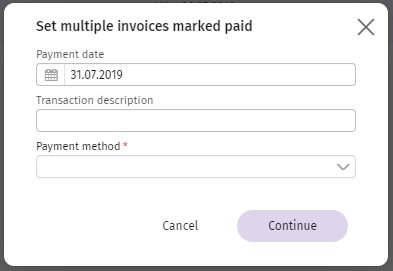 Determine a desired payment date (present day by default), transaction description (voluntary information) and a payment method for the chosen invoices.
The payment date can't be in a closed financial year.
The payment method is only informative data on sales invoices; it doesn't have any effects on accounting or on other functions of Procountor.
Transaction description and payment method will be visible with the payment transaction in the Payment transactions section of the Special situations view.
The given information is approved with Continue button. After this, the chosen invoices have been set to Marked paid status with the chosen payment date and payment method.
Please note that Marked paid status does not automatically create any accounting entries. Therefore, possible postings have to be done manually.