In this article, we will go through the navigation in Procountor, including the main menu and its sections, as well as the upper menu and its functions.
Main menu
You can switch between different sections in Procountor through the main menu on the left side of the page. When pointing the mouse cursor at a section in the menu, a list of views, reports and subsections included to that section will appear on the right hand side of the menu.

On the upper left corner of the list that opens next to the menu, there's a lock icon, which enables locking the list so that it will remain visible even after entering a view from the list. If the list is not locked, it will be hidden automatically when entering a view.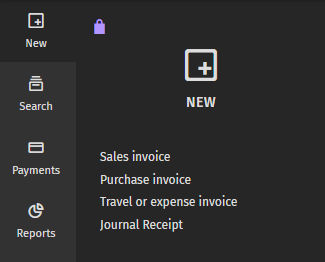 Sections in the main menu
The views, reports and subsections found under main menu's each section are listed below. Subsections can be recognized from the > icon and by clicking on the icon, you'll get a listing of the views included in the subsection.

New
Through this section, you can create new sales and purchase invoices, as well as travel and expense invoices.

Search
Through this section, you can search all receipt types in Procountor, including invoices, orders, journal receipts, periodic tax returns and salary slips and process them further, for example approve them and queue them for payment. You can also save your own searches, which will then be found in this section.
Receipt search: new receipt search published in May 2019
Traditional receipt search: old receipt search that is still available at the moment, but will be disabled later
Open invoices
Open sales invoices
Open purchases
Invoices to verify

Payments
Through this section, you can search bank statements and reference payments received in Procountor, make salary payments, allocate payments and makes payments using Direct bank transfer function.

Reports
Through this section, you can access different reports in Procountor, such as receipt type –based reports, payment reports and accounting reports.
Budget reports
Register reports
Salary reports
Payment reports
Extra reports
Reconciliation tools

Accounting
Through this section, you can access Ledger entry tool, Accrual tool, and VAT summaries. Also reconciliation tools, closing of accounts tools and balance sheet itemisation are found in this section.

Registers
Through this section, you can access business partner and product registers.
Customer register
Sales product register
Supplier register
Product register for purchases

Payroll
Through this section, you can create and search salary lists and manage employee registers. The old salary module used before Incomes register came into effect is found under Salaries (old).

Notifications
Through this section, you can create notifications for tax authorities, such as Tax return for self-assessed taxes and notifications for Incomes register, and search for existing notifications.
Search for open notifications

Management
Through this section, you can determine and modify Company info, Usage settings, Salary info and Accounting info, and manage Users and privileges. Also Import data function and Payment and sending errors are found in this section.
Company info
Accounting info
Salary info
Salary info (new)
Upper menu
Through the menu at the top of the page, you can, for example, search for views or business partners, access your personal information and settings, switch between Procountor environments and log out.

Home button takes you to Procountor front page

Search button opens up a search field, through which you can search for views, receipts and business partners in Procountor.

Company menu enables you to switch between Procountor environments, if your user id is connected to more than one environment. All the environments your user id is conncected to are listed in the company menu.

Additional services button enables you to view additional services that can be taken into use in Procountor.

Open in a new window button opens Procountor in a new browser window.

Notes button enables you to create personal notes

Basics button opens up a menu including the following options:

Personal info and settings: edit your personal info and settings
Manual: open Procountor guide in an new browser window
Support and feedback: open Procountor contact form, through which you can send us a contact request or feedback.
Open guided setup: open the listing of procedures that need to be done when starting the use of Procountor
About the program: view information on your browser, operating system as well as Procountor version.
GDPR file vault: here you can find documents related to GDPR.
Logout
Info button in the lower right corner

The button opens up a new window including information on the view the user is on when clicking on the button, as well as links to the pages in Procountor manual that are related to the view.
The place and visibility of the Info button can be determined on Personal info and settings view by clicking on the Themes button.