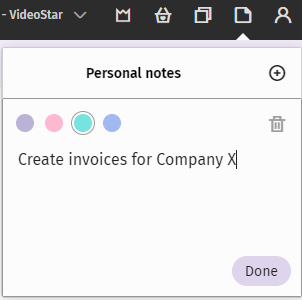 With the notes function you can save notes for yourself that are easy to access in every Procountor view.
The notes are opened from the top bar's note icon. New, personal note is added through the plus icon. When the text is ready, the new note is saved by clicking the Done button. Note that is done can be modified with the pen icon and deleted with the delete icon.
Multiple notes can be saved. A colour dot can be chosen for each of the notes. This way the notes can be categorized.
The notes are environment specific.