Finazilla is a budgeting, forecasting and analytics solution for financial professionals.
With Finazilla, the data generated by Procountor and any other systems you use can be processed into a format that supports your organization's decision-making. In addition to reporting and analytics, the software offers comprehensive possibilities for budgeting and forecasting.
The pre-built integration between Procountor and Finazilla is easy and quick to implement.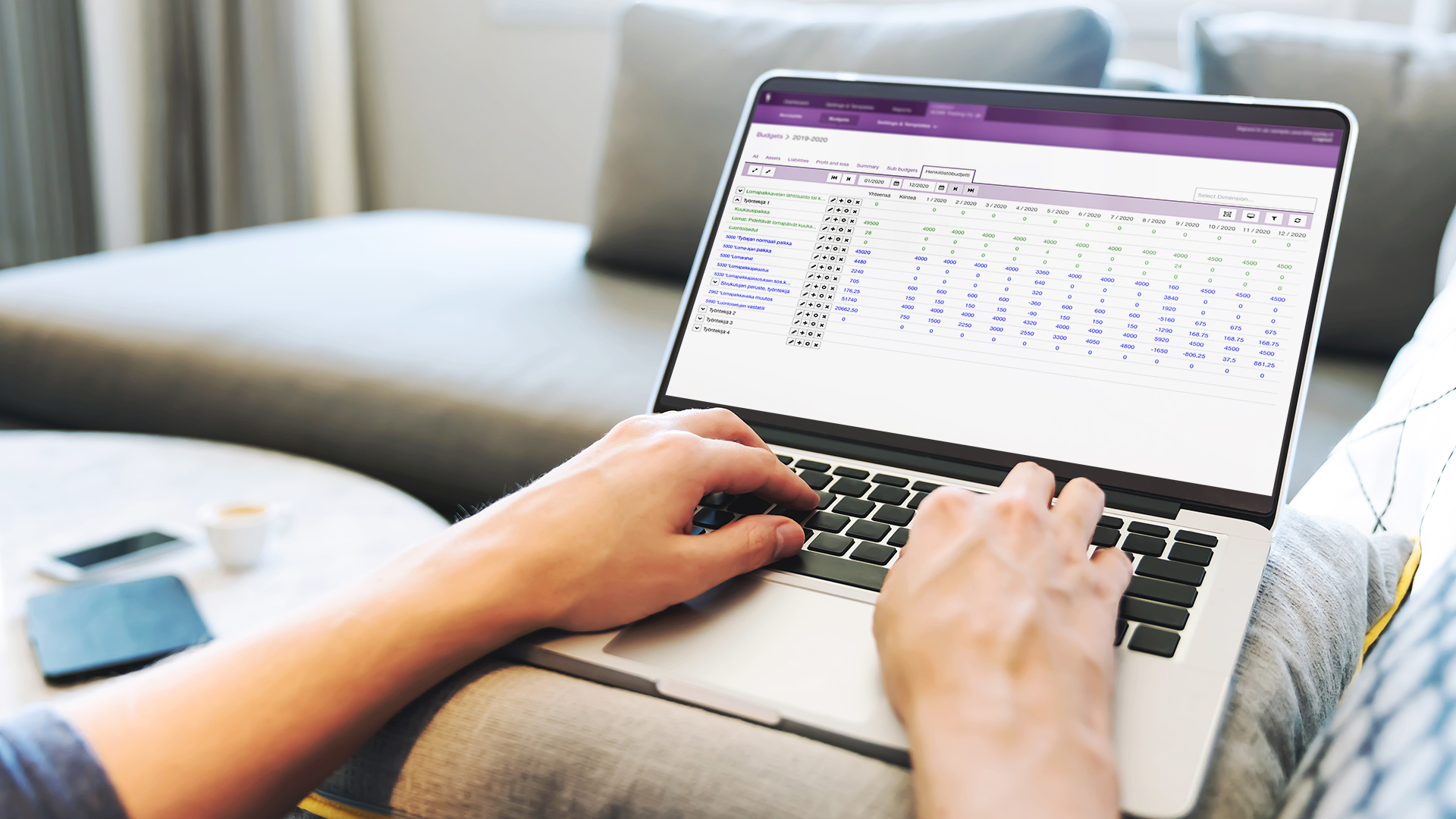 What is Finazilla used for?
Budgeting & forecasting
With Finazilla, the entire budgeting and forecasting process can be carried out without a spreadsheet application.
Different parts of the business, such as sales, personnel, marketing, investments and projects, can be modeled as partial budgets in Finazilla, eliminating the need for numerous Excel tables. In Finazilla, these partial budgets become part of your organization's main budgets: the profit and the balance sheet.
In addition, Finazilla's partial budgeting enables the entire organization to commit to drawing up a budget and forecasts in a controlled manner.
Budgeting and forecasting can be extended to both the profit and the balance sheet as well as the cash flow.
Reporting & analytics
Finazilla's strengths in reporting include adaptability and customizability.
The pre-built reports in the system allow the user to get going, quickly and easily. In addition, Finazilla has the ability to create and edit reports with a user interface designed for the needs of financial professionals.
Finazilla's user interface enables users to create and customize reports, which supports the organization's agile financial management and reduces the need for outsourced consultancy work.
Finazilla's reporting is not limited to financial data; Procountor's data can be combined with information produced by other systems, such as CRM, ERP or POS systems.
Cash flow forecasting
Finazilla helps predict cash flow far into the future – even months or years from now. Long-term cash flow forecasting is based on profit and balance sheet forecasting.
In addition, it is possible to predict short-term cash flow based on invoices transferred from Procountor through integration and manually added transactions.
Group reporting
Finazilla enables reporting on the Group's companies together or separately. Finazilla manages group reporting, including eliminations, and, if necessary, currency conversions.
Finazilla business intelligence
Finazilla is compatible with any other BI solution.
With Finazilla, you can refine the data produced by Procountor into reports and key figures tailored to your organization's needs. The pre-calculated reports are exported to another BI solution (Power BI, Qlik, Tableau…) via the interface.
The data exported to another BI solution may also include budgets created with Finazilla, allowing Finazilla to act as a budgeting and forecasting solution alongside your current BI system.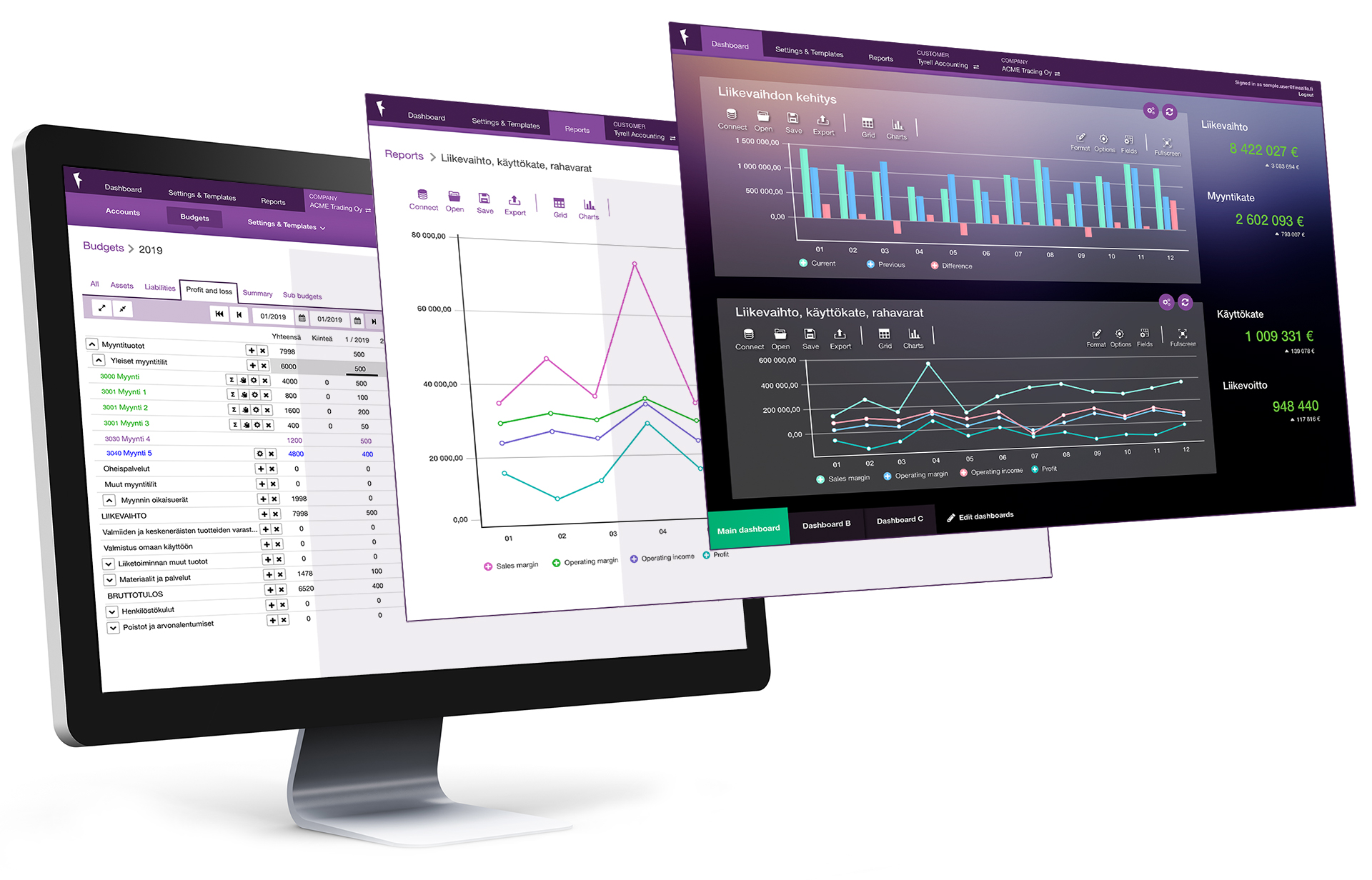 What types of organizations and users could benefit from Finazilla?
Finazilla is suitable for limited liability companies, associations and organizations. It is used successfully in both small and large organizations.
Due to its advanced budgeting and forecasting capabilities, Finazilla is particularly popular in growth companies where, for example, cash flow forecasting is of great importance.
The main users of Finazilla typically include finance directors, CFOs, controllers and other financial professionals, such as accounting offices that offer cost accounting services to their customers.
In addition to the main user roles mentioned above, Finazilla access rights are allocated to, for example, members of the Board of Directors and the Management Team as well as to supervisors and other key employees who read the reports shared with them and update the forecasts for their areas of responsibility.
Procountor integration
The pre-built integration between Procountor and Finazilla ensures that important decisions are always made on the basis of up-to-date information. With the integration, the data imported to Finazilla can be presented as reports and key figures that facilitate decision-making.
Accounting receipts, purchase invoices, sales invoices, payments, customers, products and suppliers are transferred automatically from Procountor to Finazilla. Procountor's dimensions are also at your disposal in Finazilla.
Procountor sales data flow
Finazilla includes the Procountor Sales function that enables the reporting of data extracted from invoices by accounting dimensions.
With this function, it is possible, for example, to report product sales at a certain location, even if only the location is included as a dimension in accounting. Having the product included in the invoice is sufficient.
Use of the service and pricing model
The service is offered to customers as a cloud service for a monthly fee. The contract is concluded between Finazilla Oy and the end customer company using the service.
Pricing is based on the number of companies, users and integrations. Setup and use of a Procountor integration does not incur a separate charge.
Deployment from EUR 1,250
Monthly fee from EUR 284/month
Trained main users are offered customer support without extra charge.
Interested in the service?
Finazilla organizes remote demonstrations for companies interested in the service where you can get to know the features in more detail. You can subscribe to the service or request a remote demonstration by submitting a contact request here (In Finnish).