CHANGING THE LANGUAGE OF THE SOLO USER INTERFACE
You can change the user interface language to English under Settings > My account > Display language.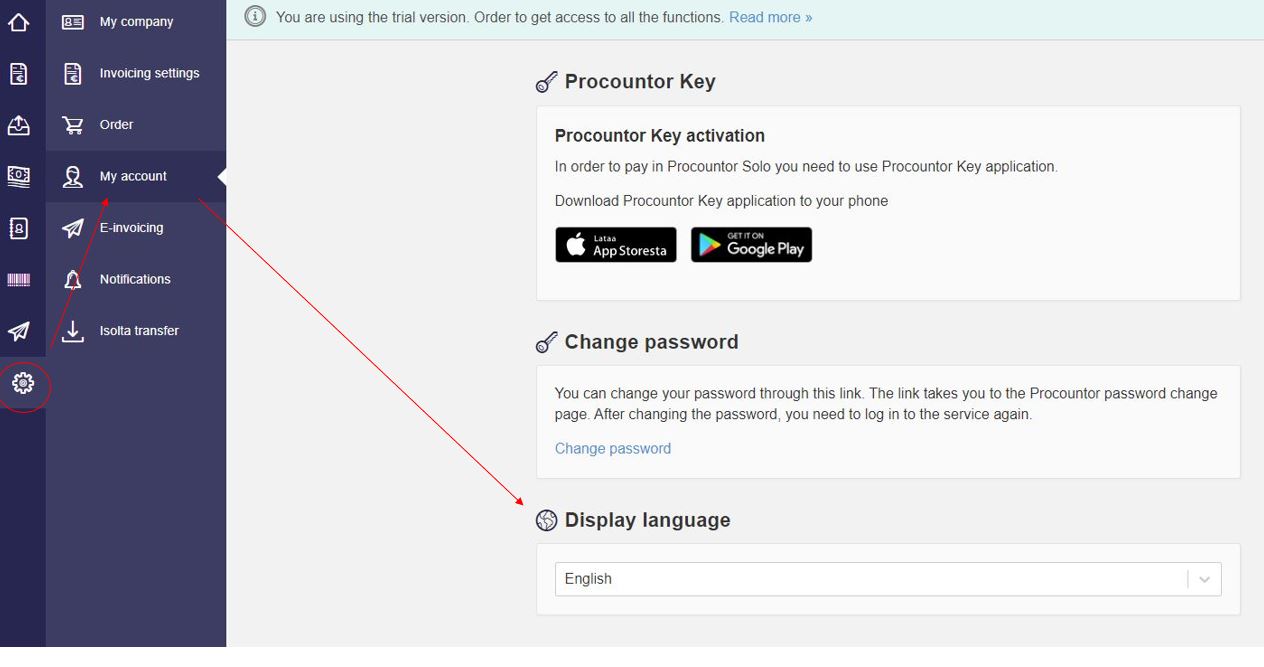 LANGUAGE SETTINGS FROM PROCOUNTOR USER INTERFACE FOR EXPENSE TYPE REPORTING
EXPENSE TYPES IN ENGLISH
The expense types used by the customer, i.e. products in the product register for purchases in Procountor, must be switched to English. They are not automatically translated even if you change the language of the Solo user interface to English. When you set up the environment, your should select English as the product register language.
If you need to do this afterwards, you can download the default product register in English as a CSV file below and import it to Procountor under Management > Import data. There are separate default product registers for limited liability companies and sole traders.
Please make sure that the chart of accounts has all the necessary accounts for the product register. If you use the default chart of accounts, it will contain all the accounts for the product register. Remember to mark the old registered purchase products as passive to remove them from the customer's user interface and implement the new products.
Solo default product register (sole trader, in English). CSV
Solo default product register (limited liability company, in English). CSV
CHANGING THE CUSTOMER'S REPORTING LANGUAGE TO ENGLISH
You can change the language of reporting to English by changing the company's language to English. The company's language setting can be found in the company's basic info under Management > Company info > Basic info.
Changing the company's language does not affect the language of the accountant's user interface. In other words, you can continue using Procountor in your preferred language.